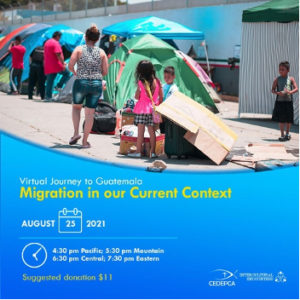 8/22/2021: "World-wide, we are all migrants. Some of us move from place to place to follow opportunities —for education, for employment, or for strengthening relationships with people close to us. Some migrate seasonally to improve health. Others migrate within the same city to a different home or job.
Humans are migratory beings because the Spirit of God is moving in our lives, calling us toward community and a sharing of resources God has given."
That's how the Rev Betsey Moe, a PC USA mission co-worker, explains why the topic of migration is an important one. This coming Wednesday, Aug. 25, our Central American mission partner, CEDEPCA, is offering a virtual journey that focuses on migration. This is the second virtual journey on this topic. Last year the presentation focused on the history of migration and its effects on those left behind.
This year the presentation will be looking at migration through the Parable of the Good Samaritan, and concrete actions the Bible gives us: recognize, show compassion, be a neighbor and show care.
One focus will be the Frontera de Cristo ministry, which unites the two towns of Douglas, Arizona and Agua Prieta, Mexico, separated by a border wall. The towns are surrounded by harsh, waterless Arizona desert, which claims the lives of many who try to cross illegally every year. This ministry of the PC USA and the Presbyterian Church of Mexico works with partners in Mexico to try and help economically desperate people so they don't leave, and help those who are returned by border patrol get clothes and food.
Immigration is a complex issue with no easy answers. The CEDEPCA virtual journey lets us see what people are doing in an area that's a flashpoint of controversy, and helps us understand why we are continuing to see people risk their lives to try to cross the US border.
The virtual journey is on Zoom, at 4:30 p.m. Pacific time Wednesday, August 25. Anyone can attend, but you need to pre-register. When you register, you get a link that is unique to you, and you click on the link when it's time for the conference.
Sunny can send you the link to register online. Text her or give her a call and she'll help you get signed up. If you're on Facebook, you can also go to @CedepcaUsa and scroll down to the announcement, with the link. After you register, you get a confirmation email about the Zoom virtual journey, with your link to attend.
If you can't attend the Zoom journey to see Guatemalan ministry in action, you can still follow CedepcaUSA on Facebook. The intercultural encounters team regularly posts Biblically-inspired messages.