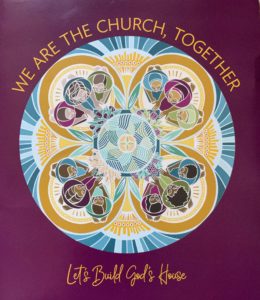 9/22/2021:   Theologian Dietrich Bonhoeffer wrote "We are not Christ, but if we want to be Christians, we must have some share in Christ's large-heartedness by acting with responsibility and in freedom when the hour of danger comes, and by showing a real sympathy that springs, not from fear, but from the liberating and redeeming love of Christ for all who suffer. Mere waiting and looking on is not Christian behavior. The Christian is called to sympathy and action, not in the first place by his [or her] own sufferings, but by the sufferings of [others], for whose sake Christ suffered"
Next week, Oct. 3,  is World Communion Sunday, when the Presbyterian church traditionally accepts the Peace and Global Witness special offering during the church service. For those attending church in person,  special offering envelopes are available in the pews. Remember, we are not currently passing an offering plate. The offering plate is in the Narthex. You can also donate online through Oct. 10. Use the "donate" button on the menu. Half this offering goes to mission work being done in other countries; half for work being done here.
The bulletin insert on Sept. 26 focuses on the Presbyterian Peacemaking Program and its activities at the US-Mexican border, an extremely timely message. The non-fiction book "The Devil's Highway," by Luis Alberto Urrea, will be discussed at Covenant's book group on Oct. 2. The book explains how organized gangs are convincing poverty-stricken people to travel to the US to earn money. The book focuses on one criminal group who dropped off people in a stretch of forbidding Arizona desert with a guide who didn't know the area. Over half of the group died from the heat.
Those of us who participated in CEDEPCA's virtual journey on migration in August learned more about frontier mission work being done in Arizona. One of the most hopeful parts of that presentation was the mission effort to create jobs in Mexico so people don't attempt the perilous journey through the Arizona desert in search of work. A presbytery located in New Jersey and Delaware, New Castle, is another example of trying to help people have better lives where they are. New Castle works with CEDEPCA and the Mam Christian Association to help teach rural women job skills, providing better ways to heat their homes, have access to clean water —and raise chickens! The money we've donated to CEDEPCA goes to many small projects that include classes to develop community leaders, to reduce domestic violence and to prepare disaster-response plans.
Covenant will keep 25 percent of next week's Peace Offering to support peacemaking and reconciliation. We welcome suggestions on the best way to use that money. Use the "contact" button to send us an email.
World peace seems like an impossible dream. But as Christians, we are called to do what we can with what we have, and try to make a difference in someone's life.