Covenant Presbyterian Church
Open to wherever God, in Christ, leads us, we seek to live out our faith in community
by offering hope and standing together for justice.
Welcome, Janelly, Oregon Fellow intern at Covenant!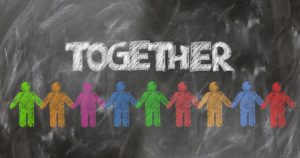 We welcome Janelly Carranza as our first Oregon Fellow at Covenant.  A graduate of Tualatin High School and Warner Pacific University, Janelly, 24, is here to develop community outreach programs. Of particular interest to her are issues of housing and food insecurity and women's roles in church and community.  She also works with the Hispanic community in the Beaverton/Hillsboro area as a Community Resources advocate, and currently lives in Beaverton.
Covenant Presbyterian received two grants from the Presbytery of the Cascades and the Synod of the Pacific to offer Janelly a one-year, renewable stipend as an Oregon Fellow, a type of internship. Funding comes from PC(USA)'s 1001 New Ministries Program. That program looks for new young leaders for neighborhood-based ministry and cross-cultural theological reflection.
Janelly was identified as an Oregon Fellow candidate by the leadership team from Together Lab, the Leaven Community and Covenant. She selected Covenant as her "home base" because while she was at Warner Pacific University, she had an internship with the Leaven Community Land and Housing Coalition, where she met Pastor Joshua Dunham. The coalition is an ecumenical group of 20 congregations working toward affordable housing in the tri-county area, and Pastor Josh is one of the members. He is also involved with Together Lab and the Leaven Community.
At Warner Pacific University, Janelly said she took courses that made her consider women's roles in the church and how Christian faith is expressed. Being Hispanic, she said, "I was Catholic by default. I grew up in a church where you just went to worship." She was really drawn to the idea of worship involving "a loving, caring community" that got involved in the neighborhood. When Janelly attended her first Covenant Zoom church service, she said she was very impressed by how caring and connected church members were with one another.
We are looking forward to accompanying her as she develops a community of practice for the young, diverse population in our neighborhood.
Our Sunday services, Tuesday Bible Study and Thursday Midweek Prayer are all available on Facebook. Scroll through the Facebook feed below and click on the announcement or recorded service you want to view.
This message is only visible to admins.
Problem displaying Facebook posts.
Click to show error
Error: Server configuration issue
The doors to our building are closed, but our church is not! Covenant Presbyterian Church is providing online and over-the-phone worship on Sunday mornings at 10:30 a.m. Our Facebook page posts connection information via Zoom each week. We are also live-streaming our Sunday service on Facebook.
This is a service provided instead of our regular in-person worship services, that have been temporarily suspended during the COVID-19 Coronavirus outbreak. We are also offering weekly Bible Study of the Lectionary and weekly prayer gatherings online.
For more information on connecting to our services via alternative means please follow this link
Thank you for visiting Covenant Presbyterian church online.  We invite you to learn more about our church on this site, and we hope you will come in for a visit.  We would love to meet you and to share with you our love for God and for each of God's beloved children.  We are a multi-ethnic, multi-generational church, and members of the Presbyterian Church (USA).
Special worship services
We have additional services for Ash Wednesday, Maundy Thursday, Good Friday, Easter Vigil and Christmas Eve.  Call the church office for times and dates.
Join us
While many of our in-person activities, like singing together and eating in local restaurants are on on hold at this time, Book Club has moved to Zoom meetings.
Book Club: 10:00 a.m., first Saturday of each month
Birthday Club: 11:30 a.m., second Friday of each month
Men's Breakfast: 8:30 a.m., third Saturday of each month
Handmade with Love: 10:00 a.m., fourth Thursday each month
Choir Practice: 9:45 a.m., every Sunday morning before church services.
Volunteer with us
SnowCap Community Services, a philanthropic outreach to provide emergency food, clothing and services to East County residents in need.
Food for Families is a 501c3 non-profit food pantry located in the bus in the Centennial High School parking lot. It provides emergency food to local families.
Meals on Wheels brings food to seniors in their homes. They serve the greater Portland area.