Covenant Presbyterian Church
Open to wherever God, in Christ, leads us, we seek to live out our faith in community
by offering hope and standing together for justice.
'Save the Date: The 'Souper Bowl' of Caring is Feb. 13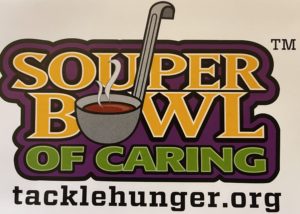 For the past 30 years, churches across the US have been involved in a fundraiser and food donation drive that happens when the football Super Bowl is held.  The national organization that now leads this food drive, tacklehunger.org, says it all began in 1990, at Spring Valley Presbyterian Church in Columbia, South Carolina. The seminary intern at the church, Brad Smith, gave a simple prayer: "Lord, even as we enjoy the Super Bowl football game, help us to be mindful of those who are without a bowl of soup to eat."
And with those words, Smith created a way of connecting the enthusiasm of Super Bowl weekend to a positive act to help end hunger. In a play on words with the idea of having a bowl of soup to eat, the campaign was named the "Souper Bowl of Caring."
People across the US were asked to donate a dollar for each Super Bowl viewer in their household or at the party they were going to attend. The money stayed with the church, to be used by a local food pantry in their neighborhood. As the idea gained steam in the following years, Covenant joined in, asking youth in the church to hold a big soup pot to collect a donation. 
The program moved to also involve schools, civic groups and caring people.  And it now has an actual team and website to help anyone who wants to get involved in the Souper Bowl of Caring.  The organization Tackle Hunger.org has sponsors like Dell Technologies, the US Department of Defense, the Girl Scouts, Boy Scouts, the NFL alumni association, TV and radio stations, and multiple professional football teams.  This team effort has involved 300,000 different groups in all 50 states. Last year the Souper Bowl of Caring donated over $5 million to 4,564 local charities.
It's pretty easy to get involved at Covenant. Super Bowl 56 will be played on Sunday, Feb. 13. In church that day, drop your donation into the soup pot! We'll tell you more about this inspiring national event next Sunday, so stay tuned to Minute for Mission.
We are now offering hybrid services
Covenant Presbyterian Church is providing both in-person and online/over-the-phone worship on Sunday mornings at 10:30 a.m. If you are able to join us in person, please wear a mask at this time. We want to protect those in our congregation who have health conditions or are too young to be vaccinated. Our Facebook page posts connection information via Zoom each week. We are also live-streaming our Sunday service on Facebook.
We are also offering weekly Bible Study of the Lectionary,  weekly prayer gatherings, monthly family game night and movie night, and book group online.
For more information on connecting to our services via alternative means please follow this link
Thank you for visiting Covenant Presbyterian church online.  We invite you to learn more about our church on this site, and we hope you will come in for a visit.  We would love to meet you and to share with you our love for God and for each of God's beloved children.  We are a multi-ethnic, multi-generational church, and members of the Presbyterian Church (USA).
Special worship services
We have additional services for Ash Wednesday, Maundy Thursday, Good Friday, Easter Vigil and Christmas Eve.  Call the church office for times and dates.
Join us
While many of our in-person activities, like singing together and eating in local restaurants are on on hold at this time, Book Club has moved to Zoom meetings.
Book Club: 10:00 a.m., first Saturday of each month
Birthday Club: 11:30 a.m., second Friday of each month
Men's Breakfast: 8:30 a.m., third Saturday of each month
Handmade with Love: 10:00 a.m., fourth Thursday each month
Choir Practice: 9:45 a.m., every Sunday morning before church services.
Volunteer with us
SnowCap Community Services, a philanthropic outreach to provide emergency food, clothing and services to East County residents in need.
Food for Families is a 501c3 non-profit food pantry located in the bus in the Centennial High School parking lot. It provides emergency food to local families.
Meals on Wheels brings food to seniors in their homes. They serve the greater Portland area.