Covenant Presbyterian Church
Open to wherever God, in Christ, leads us, we seek to live out our faith in community
by offering hope and standing together for justice.
Covenant partners with Safe Place to help local youth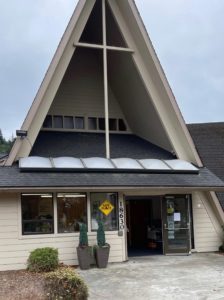 The bright yellow sign in our window lets people know Covenant Presbyterian has joined a national group for youth at risk, called Safe Place.
Safe Place is an outreach and prevention program to help youth ages 9-17 who are in crisis and do not have a home they feel they can safely return to. The program began with the YMCA in Louisville, Kentucky, in 1983.  The idea was to be a safety net to keep kids from ending up on their own on the streets. Safe Place expanded to include partner libraries, churches, businesses, fire stations, and social service agencies. 
The program is just starting in East County and is run by the Alba Collaborative, through the Boys and Girls Club on 167 and Stark. The umbrella program, New Avenues for Youth, is a nonprofit that receives state and federal grants. They have staff 24-7 who are able to come to designated Safe Places in the community and get youth to people trained in trauma care. New Avenues can provide emergency shelter, counseling and other resources
Our church's role is to be a safe waiting spot while the agency sends staff to pick up the child or teen. Our goal is to work with New Avenues for Youth and the Alba Collective to reduce runaways living on the streets, and keep kids safe.
We are now offering hybrid services
Covenant Presbyterian Church is providing both in-person and online/over-the-phone worship on Sunday mornings at 10:30 a.m. If you are able to join us in person, please wear a mask at this time. We want to protect those in our congregation who have health conditions or are too young to be vaccinated. Our Facebook page posts connection information via Zoom each week. We are also live-streaming our Sunday service on Facebook.
We are also offering weekly Bible Study of the Lectionary,  weekly prayer gatherings, monthly family game night and movie night, and book group online.
For more information on connecting to our services via alternative means please follow this link
Thank you for visiting Covenant Presbyterian church online.  We invite you to learn more about our church on this site, and we hope you will come in for a visit.  We would love to meet you and to share with you our love for God and for each of God's beloved children.  We are a multi-ethnic, multi-generational church, and members of the Presbyterian Church (USA).
Special worship services
We have additional services for Ash Wednesday, Maundy Thursday, Good Friday, Easter Vigil and Christmas Eve.  Call the church office for times and dates.
Join us
While many of our in-person activities, like singing together and eating in local restaurants are on on hold at this time, Book Club has moved to Zoom meetings.
Book Club: 10:00 a.m., first Saturday of each month
Birthday Club: 11:30 a.m., second Friday of each month
Men's Breakfast: 8:30 a.m., third Saturday of each month
Handmade with Love: 10:00 a.m., fourth Thursday each month
Choir Practice: 9:45 a.m., every Sunday morning before church services.
Volunteer with us
SnowCap Community Services, a philanthropic outreach to provide emergency food, clothing and services to East County residents in need.
Food for Families is a 501c3 non-profit food pantry located in the bus in the Centennial High School parking lot. It provides emergency food to local families.
Meals on Wheels brings food to seniors in their homes. They serve the greater Portland area.