Covenant Presbyterian Church
Open to wherever God,
in Christ, leads us,
we seek to live out our faith in community
by offering hope
and standing together for justice.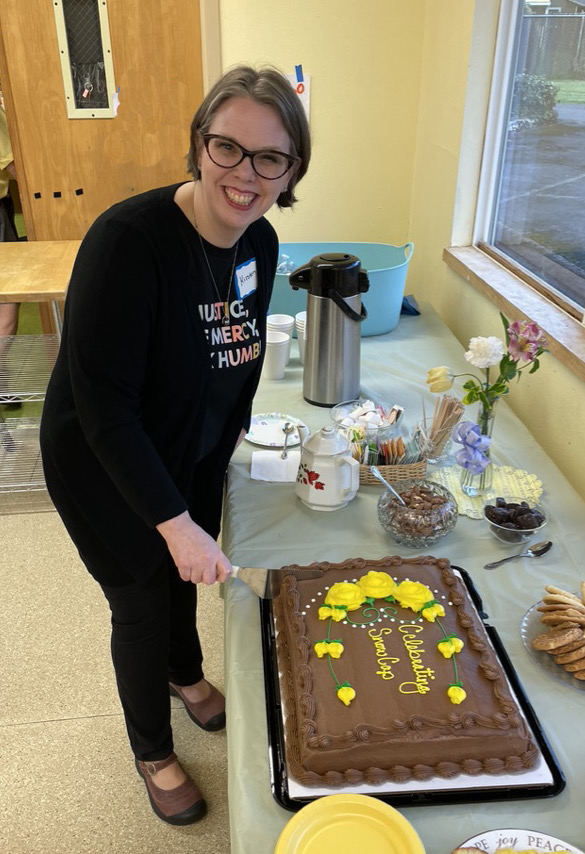 Thank you, everyone!
Fundraising dinner brings in $8,700, to be matched by donor
SnowCap director Kirsten Wageman was the guest speaker for our fundraising dinner, part of the Conduit of Compassion Campaign raising money to build a much-needed clothing distribution center on Covenant's back lot. 
At the dinner, Kirsten explained the vision for the next chapter in the story of community action and support, and how contributing now would qualify for matching funds from a grant by a donor.
The level of giving from the SnowCap volunteers, friends and family who attended the dinner was inspiring. As they enjoyed the lasagna dinner, participants could also see the empty back lot, and envision the building to come. 
We continue to offer hybrid services
Covenant Presbyterian Church is providing both in-person and online/over-the-phone worship on Sunday mornings at 10:30 a.m.  Our Facebook page posts connection information via Zoom each week. We are live-streaming our Sunday service on Facebook.
Also offered online via Zoom or Facebook: Tuesday Bible Study of the Lectionary and  Wednesday weekly prayer gatherings.
Offered in person at the church or via Zoom: monthly book group.
Now offered in person at the church: monthly family game night.
For more information on connecting to our services via alternative means please follow this link:
Thank you for visiting Covenant Presbyterian church online.  We invite you to learn more about our church on this site, and we hope you will come in for a visit.  We would love to meet you and to share with you our love for God and for each of God's beloved children.  We are a multi-ethnic, multi-generational church, and members of the Presbyterian Church (USA). Our church building also serves as a "nesting church" for three developing community churches. Two offer services in Spanish: Iglesia Apostolical de Fe en Jesus Cristo (affiliated with International Pentecostal church) and Iglesia Pentecostal Fuego de Dios, an outreach associated with the main church in Vancouver, Washington. The third is Neema Kenyan Presbyterian. Services are in Swahili.
Covenant Presbyterian is also a community resource center: We house a Head Start program, are a Safe Place resource, and offer rooms for Girl Scouts and garden clubs to meet. Watch for more information as Snow Cap develops our back lot for a new clothing distribution center.
Special worship services
We have additional services for Ash Wednesday, Maundy Thursday, Good Friday, Easter Vigil and Christmas Eve.  Call the church office for times and dates.
Join us
Book Club: 10:00 a.m., first Saturday of each month, September through June.
Family Game Night: 5 p.m., third Sunday of each month
Handmade with Love: continues in individual homes. We donate our creations: baby quilts, hats, mittens and socks to SnowCap each year. Email the church if you're interested in joining and we'll put you in contact with the organizers.
Choir Practice: 9:15 a.m., every Sunday morning before church services, September through June.
Volunteer with us
SnowCap Community Services, a philanthropic outreach to provide emergency food, clothing and services to East County residents in need.
Food for Families is a 501c3 non-profit food pantry located in the bus in the Centennial High School parking lot. It provides emergency food to local families.
Meals on Wheels brings food to seniors in their homes. They serve the greater Portland area.