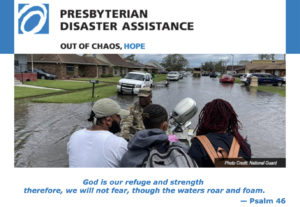 9/12/2021:  Each year our church family donates additional mission funds for the national One Great Hour of Sharing offering. A third of the money raised goes to Presbyterian Disaster Assistance. Today's minute for mission is an update on how that donation is helping, right now, for Louisiana communities hit by Hurricane Ida. A category 4 storm with 150 mph winds, it hit Southern Louisiana on Aug. 29, 16 years to the day since Katrina struck.
"Presbyterian Disaster Assistance national volunteers began arriving Sept. 1. delivering immediate aid to those impacted by Hurricane Ida. The initial assessment of the damage is staggering. The needs of those impacted is changing daily because of lack of access to power, refrigeration, water and housing. This will be a long-term commitment to the people impacted by this catastrophic destruction," said a PDA spokesperson.
Richard Williams, the interim general presbyter for the Presbytery of South Louisiana, said "Our presbytery is no stranger to disaster." Three of the four sections of that presbytery were hit very significantly by the storm. One of the churches still standing in Lake Charles is being used as a staging point for supplies and organized volunteer groups.
"PDA will continue to work with Presbyterian leadership to respond to Hurricane Ida and remain engaged in the recovery efforts during the hurricane season of 2021, during which several named storms are expected to impact the region. After initial needs are addressed, PDA will remain — providing emotional and spiritual care and Long-Term Recovery to address unmet needs.
The Rev Jim Kirk, associate for national disaster, said "PDA may not be among the first ones in, but they will be among the last ones out. We will be there to help with Ida as long as it's needed."
Thank you for your financial gifts last spring. They are helping make a difference. When a disaster strikes, it helps to have a coordinated effort in place, rather than just showing up to volunteer or donating supplies that may not be needed, said Kirk.
If you want to make an additional donation, please carefully research any requests because so many scams crop up in times of disaster, taking advantage of generous hearts.  It's always safe to donate to well-known groups like Doctors without Borders, the Red Cross, and of course, Presbyterian Disaster Assistance. You can find details on their Facebook page, PDACARES. You can also go to the website pcusa.info/ida. For those attending church in person today, donation information sheets are located in the Narthex.