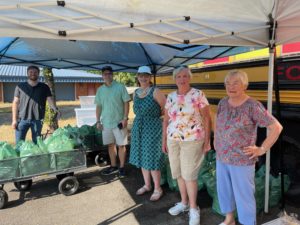 7/11/202: Oregon's vaccination rate has reached the point that the governor has opened up many of the activities and businesses that were shuttered for over a year and a half. If you've had your vaccinations and you're really ready to get out and interact with people again, we have two local foodbanks in need of volunteers.
SnowCap needs volunteers for a variety of jobs. Some are occasional:  committee work, fundraising, public speaking, or special projects. Some are a weekly commitment on a regular schedule. SnowCap regular schedule volunteers are needed during open hours Monday through Friday from 9:45 to 2:30. SnowCap also needs help on specific evenings once or twice a month. Would you be willing to sort donations, help clients find food or clothing, drive or deliver food with the mobile pantry, or help with the office work involved with client intake?
SnowCap has a volunteer application form you can complete on its website. Or you can contact Nate Larsen, the volunteer coordinator.   If you'd like to volunteer but don't have internet access, let me know. I can download the application form for you and give you Nate Larsen's regular mail address at SnowCap.
Our second partner is the local Food for Families that operates out of the yellow school bus at Centennial High school. They are distributing just once a month this summer, with two more times coming up: Wednesday, July 28 and Wednesday, Aug. 25. In the fall they will resume twice a month openings, starting with Sept. 8 and Sept. 22. Volunteers select the day or days they can work and complete a form online. Again, if you don't have internet access and would like to volunteer, I can help you make that connection.  Food for Families needs volunteers for both set-up and distribution. Set up runs from 12:30 to 3 p.m.
People who help with distribution get clients to sign in, give them a shopping bag, and help them understand how many of which type of foods their family can receive. Distribution volunteers work from 3:30 to 7 p.m.
If you're vaccinated and can safely help those in need in our community, please consider our local food banks